eNewsletter Feature Story – Week of January 10 thru January 16, 2021
This week's eNewsletter feature
was written by Rev. Raymond Hylton,
FPCE senior pastor.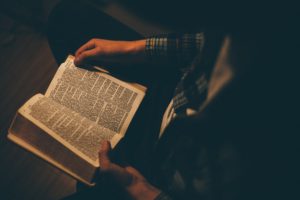 Dear friends,
Happy New Year!
I was wrapping up a video call with a friend of mine in another state when he suddenly switched topics and confessed to me something that I hear from many people today:
"I have been a Christian for more than 20 years," he said, "but I don't know the Bible; in fact, I don't read the Bible."
This brother is a leader in his church, faithful in his attendance with his wife and kids. He's very successful in his business but feels like a failure when it comes to his faith.
I could feel the weight of his guilt seeping through his voice.
I urged him never to respond to God out of shame. "God wants you to respond out of desire and love, not shame."
He didn't respond, so I continued, "If you can even carve out ten minutes each day to be with God in Scripture and prayer, you open up space for God to move in your life. And when you start this journey, don't expect overnight change. If spiritual disciplines were easy, then everyone would be doing it.
"The important thing is to start — now."
I shared two of my favorite verses in Scripture that get me motivated to read God's word:
Your words were found, and I ate them,
and your words became to me a joy
and the delight of my heart;
for I am called by your name,
O Lord, God of hosts. (Jeremiah 15:16)
Teach me your way, O Lord,
that I may walk in your truth;
give me an undivided heart to revere your name. (Psalm 86:11)
A couple key points I would share with everyone, not just my friend, considering data from the recent study State of the Bible 2020: Research from American Bible Society and Barna Group:
Bible Disengaged people interact with the Bible infrequently, if at all, and it has a minimal impact on their lives. Two-thirds [66.3%] never read the Bible on their own, and three in ten [30.1%] read it only once or twice a year. As a group, Bible Disengaged people rarely seek out the Bible, tending to encounter it through others rather than by choice.
Bible Centered people interact with the Bible frequently. The values and principles of Scripture are central to their life choices and relationships. More than eight in ten [83%] use the Bible on their own at least four times a week.
As our call ended, my friend excitedly told me that when he got home, he would ask his wife to join him in reading through the Bible in 2021. I promised him that I would pray for him and stay in touch with him on this crucial, game-changing spiritual practice.
How about you? Would you join me and others in reading through the Bible in 2021? Email me if you are ready to join our campaign.
In Christ,
Pastor Ray
Photo by Priscilla Du Preez on Unsplash