This week's eNewsletter feature story
is written by Jim Teague,
FPCE Communications Coordinator.
Dear Friends,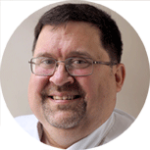 By the time you read this, I'll be a day or two away from having read the entire Bible in 2019. It has altered the way I look at God, salvation, and myself.
Before you help me pat myself on the back (or break my arm trying), let me say that part of the reason it has had such an impact upon me is because it reacquainted me with portions of the Bible I probably haven't looked at on my own in decades.
What I've realized, as a result, is how I've spent much of my adult life picking the "pleasant looking fruit" from the chapters of the Gospels, Apostolic letters, the Psalms, and Proverbs, where I knew I would find encouragement. There's nothing particularly wrong with that, but what I have been missing out on was the overarching story of God's creativity, holiness, and omnipotence as it applies to his people (me and us).
The reading plan I followed (using a Bible app on my cell phone from the company YouVision) is called "Reading God's Story: One-Year Chronological Plan." It takes you through the entire Bible with six-days-a-week reading segments arranged chronologically, rather than straight through. What this means is that while you might be in (for example) Jeremiah for a few chapters, you would then jump to Psalms 74 and 79, where you find laments of the ruin of Jerusalem. Then it's off to 2 Kings and 2 Chronicles, where you read the historical accounts of Nebuchadnezzar and Jehoiakim. Then, it's back to Jeremiah the next day.
Some days I would do my "reading" by listening to one of the various translations with narration (the NIV reader has a British accent, while the ESV guy has a generic midwestern tone). Other days, I would read it myself:  Occasionally, I would pull out my Bible and do the readings there, then marking the day's assignments as complete (so satisfying).
There were times I fell behind, and other days where I read or listened to multiple daily segments, either to make up lost ground or get ahead before going on vacation.
While the features of the app and the reading plan are great, what made the experience so valuable to me was experiencing God's faithfulness to his people and (more importantly) his own purposes throughout history.
I've always been somewhat uncomfortable with the concept of our God describing himself as "jealous" (Exodus 20:5, Deuteronomy 5:9, for example). It seemed almost childish or needy. However, reading those verses in the context of God's larger relationship with the people of Abraham, Isaac, and Jacob—and, by extension, us—gave me the impression that God wasn't expressing a need, but rather a warning: "I am completely holy and righteous, and relationship with me is risky for those who fail to recognize that."
The consistency of Jesus expressing the Father's same demand for righteousness and reverence in the Gospels really struck me, too. It was humbling and more than a little disquieting to be reminded that Jesus spoke plainly about the distinction between knowing him and simply knowing of him.
The Gospel readings were woven together in a way that helped me appreciate the different views of the writers while, again, seeing the fingerprints of God's divine plan all over the life and ministry of Jesus Christ.
As a result, my prayers were impacted, too. I've found myself praying more consistently for family and friends who don't know Jesus as their Savior and Lord.
Just this week, I read the first four chapters of the book of Hebrews. I'm a big fan of Hebrews 11, and go there regularly to remind myself of the "heroes of the faith" and their lives of obedience and sacrifice.
But do you remember how the Book of Hebrews begins? I couldn't.
"Long ago God spoke to our ancestors in many and various ways by the prophets, but in these last days he has spoken to us by a Son, whom he appointed heir of all things, through whom he also created the worlds." (Hebrews 1:1-2, NRSV)
The writer goes on to discuss the supremacy of Jesus and how his years will have no end. In detail, the writer spells out the relationship between God the Father and God the Son, reminding us that Jesus was there when the foundation of the earth was laid.
It was so exciting to be reminded that the early church was being taught these encouraging, amazing, life-changing truths at the same time they were facing persecution for their faith to the point of death.
I still haven't decided what kind of Bible reading plan I will follow in 2020 (I have a few days left to decide). The choices are endless, and I might even try a different Bible-in-a-year plan.
How about you?
Whatever you decide, may the New Year bring you closer to our awesome God and glorious Savior.
Peace,
Jim Teague
FPCE Communications Coordinator