Don't 'Keep the Faith' – Share It!
This week's eNewsletter feature
was written by Rev. Raymond Hylton,
FPCE Senior Pastor.
Dear friends,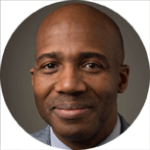 Three weeks ago, Judith and I, along with our daughter, attended a private screening of the movie Harriet.
Harriet tells the story of Harriet Tubman's brave and unselfish efforts to free her people from slavery. After escaping from slavery on a Maryland plantation to freedom In Philadelphia, she returned to the land of her enslavement on several dangerous missions to liberate hundreds of slaves through the Underground Railroad network.
After watching this powerful movie together, we discovered that all three of us did something within 24-hours of seeing Harriet — we texted, called, and shared our experience of the movie with someone. Some of the folks we talked to have gone to see the movie on the strength of our testimony.
Last week I was at Men's Breakfast and I heard one of the men in our group mention seeing the movie. The word is clearly out and about: This is a don't-miss-it movie, and I hope everyone goes to see it.
If you go to a fantastic restaurant or experience an especially moving opera — a great concert, film, or play — what's the first thing you want to do after you savor the moment? Share it! You want to tell someone about the wagyu beef or bacon-wrapped dates or kale salad surprise (if that's your thing). It's natural to want others to experience what we love. It's an elemental act of love to want to share things like that.
Unfortunately, when it comes to sharing Christ in our communities, this instinct is fading fast. We post Instagram and Facebook novellas of what we had for dinner or that stunning vacation scene but, in an interesting twist of our time, U.S. Christians are losing a desire to share their faith.
Why all the free, unfettered compulsion to tell our friends and family members about that new restaurant, or where we went on vacation, but all this tight-lipped silence about our faith? I think part of the answer has to do with experience and engagement.
Experience
Watching Harriet was an emotional experience. The movie touched all hearts in the packed theater — so much so that, when it ended, people applauded as if at a live stage show, and most stayed seated as the credits rolled. When moved by transcendent experiences people will freely share the experience with others.
So, here are some questions to assess the experience of our God encounters:
When was the last time you experienced a transcendent encounter with God?
How often do we experience the power of answered prayers or the experience of new insight about Christ through Scripture?
How often do we experience the peace of God during times of hardship and trial?
How often do we marvel at the Grace and Mercy of God to forgive our sins?
No, I am not here advocating some mindless, emotional, thrill-ride faith void of reason. I am asking how often it is, in each of our lives, that Christ becomes more than a name on a flat page of Scripture. Without these luminous, uplifting experiences, or God encounters, we may well feel we have nothing to share.
Engagement
But it's also about engagement. After seeing the movie Harriet, we couldn't keep it to ourselves. We engaged with others.
Those with fewer non-Christian friends commonly report never sharing their faith or inviting others to their church. Interestingly, a recent LifeWay survey says our unchurched friends want to know about our faith. Clearly, there are plenty of people out there who are waiting to be engaged.
One of the best places to experience God and be motivated to engage and share Christ with others is in corporate worship. I hope you will step up your church attendance. Why not start this weekend?
Pastor Ray Hylton