With Deeds of Love and Mercy
This week's eNewsletter feature
was written by Rev. Raymond Hylton,
FPCE Senior Pastor.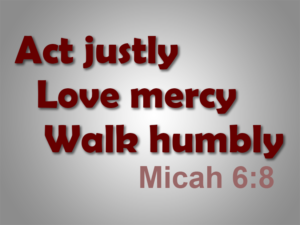 Dear friends,
Last month, mid-October, I flew to Knoxville, Tennessee to attend the Congo Mission Network (CMN).
We met at the historic First Presbyterian Church of Knoxville. The city's first church, organized in 1792, it is still located on its original site and continues to thrive after 227 years of ministry. (And you thought our church was old!)
I didn't attend the conference alone. I was part of the First Pres Evanston team with Tom and Jan Sullivan, Barb Spencer, and George Collins. For many years, these dear folks invited me to attend the CMN which meets in a different city every year. They wanted me to come so I could better understand how Christians are working together to heal this badly exploited nation.
Without any outside political clout, military power, financial or publicity backing from the world's rich and famous, the American Presbyterian Congo Mission was established in the Congo in 1891 by the Revs. William Sheppard (a 23-year-old black minister) and Samuel Lapsley (a young, white minister from Selma, Alabama). These two men defied the deeply embedded racial segregation of their time:  Black and white, working together, giving their lives away in service to God and the people of the Congo — the CMN stands on their shoulders today.
This year's conference, Claim a New Day: Partners in Creating a New Congo Healing the Wounds of War while Laying the Foundation for Peace and Empowering Women and Youth for Leadership, reminded me of two of the goals of the Six Great Ends of the Church:
The promotion of social righteousness, and,
The exhibition of the Kingdom of Heaven to the world.
I spent the entire one-hour flight back to Chicago thinking about what it means to have a Kingdom mindset, where we give ourselves away to God and to others.
I am grateful for the CMN conference. They helped me see how the Kingdom of God is present in the Congo through the efforts of Build Congo Schools — a movement supported by our church. And, by the way, Build Congo Schools is getting ready to build their tenth school!
I now understand the burning passion of Jan, Tom, Barb, George, Denise Drane, and others at our church to see God's Kingdom come to the boys and girls of the Democratic Republic of Congo.
I now understand why our mission partners, Dr. John (a medical doctor) and Gwenda Fletcher (a certified educator), gave up the best years of their professional lives serving Jesus in DR Congo.
Rubbing shoulders with 120 Christians gathered in Knoxville reminded me of the words of the hymn "Lead on, O King Eternal":
Lead on, O King eternal,
till sin's fierce war shall cease,
and holiness shall whisper
the sweet amen of peace.
For not with swords' loud clashing
or roll of stirring drums
with deeds of love and mercy
the heavenly kingdom comes.
Are you coming to church this Sunday? Then please read Romans 12:1-8 for a better understanding of what it means to be Kingdom-minded followers of Jesus.
See you Sunday,
Pastor Ray Hylton