'The Trellis and the Vine'
This week's eNewsletter feature
was written by Rev. Raymond Hylton,
FPCE Senior Pastor.
Dear friends,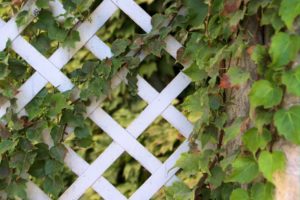 In the course of trying to reach any important goal, expect difficulties to arise and challenge your resolve to reach the finish line.
Following our October 20 Congregational meeting, where church members voted No to the bylaws proposal, some of our members assumed that the entire strategic plan was jeopardized. This is not the case.
The bylaws proposal is one of several objectives within the strategic plan's timeline of activities. We remain committed to doing the following:
Continue striving to complete our

six big goals

.
Continue working on developing a year-round stewardship model that encompasses more than money, incorporating the gifts of time and talents.
Continue working on a Sunday Morning Experience that involves welcoming all visitors to the church with robust hospitality and a Welcome Desk staffed with volunteers equipped to engage visitors to our worship services.
Ensure that all ministry councils are aligned with our strategic goals.
Simplify our organizational structure from a bicameral to a unicameral model.
Before the Congregational meeting in February, 2020, Session plans to do a better job providing a clear rationale for the unicameral structure. In the weeks and months leading up to that next meeting, we intend to provide ample opportunities for listening sessions, where Elders will be available to respond to all your questions and concerns. Be on the look-out for these future events.
Why are we doing all these activities?
In his book Trellis and the Vine, author Tony Payne points out that all the things we do as part of church life — the corporate structures, boards, plans, programs, meetings, groups, events, committees, facilities, and all the rest — are like a framework or trellis to facilitate the Spirit-dependent word and people work that ultimately produces spiritual growth.
Building a trellis is not our goal. Growing a healthy vine — which involves equipping people to know Christ, grow in Christ, and serve Christ in Evanston, Chicago, and the world — is our mission and our goal.
To develop a strong supportive trellis and healthy vine demands resilience and persistence in the works. In fact, all substantial cultural change requires dogged patience, thoughtful planning, trial and error, constant innovation, and honest review.
Are we prepared to walk by faith and not fear, trusting in God to help us grow a healthy church over the long haul?
The good news is that God has a clearly shown habit of blessing the unremarkable, the obvious, and the things that the world and our hearts tell us are least likely to succeed.
One more thing: Praise God for everyone who participated in last Sunday's pledge campaign. If you would like to make a pledge, you can make one here through our online giving platform. Just go to https://firstpresevanston.org/giving/.
Enter the amount you will pledge for 2020.
Click on  Select a fund.
Then choose Pledge Giving from the drop-down menu.
Enter your email address.
Click Continue and follow the rest of the prompts.
Thanks for your generosity to First Pres.
Committed to growing disciples who make other disciples,
Pastor Ray Hylton