Pledge Sunday: Fundamentals & Funds
This week's eNewsletter feature
was written by Rev. Henry Coates,
FPCE Associate Pastor.
Dear friends,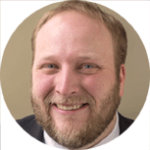 Someone once told me that people give to nonprofits for three reasons:
They believe in the mission.
They have faith in the people who will be executing that mission.
And they trust that their money will be well spent.
The FPCE mission statement reads as follows:
First Presbyterian Church of Evanston
exists to know Christ and to grow in him
as we serve and make disciples in Evanston,
the Chicago area, and the world.
Believe it:  This is who we are. This is who we have been. And, with your help, this is who we will continue to be in the future. Who we are is reflected in the strategic goals we have set toward that future.
We are in the midst of executing our much-discussed strategic plan. Last Sunday, at the congregational meeting, we presented a narrative budget designed to provide an overview of how our budget aligns with that plan.
Strategy, it is said, is the alignment of aspiration and capability.
The narrative budget reflects our aspiration. It is up to you, now, to provide your church with the capability.
Stewardship is what we do, all the time, with all we have. Stewardship is what we do, all the time, with all that God has given us. Stewardship is a key mark of our discipleship.
Here we find ourselves just a few days before the annual church fall fundraiser, our Pledge Sunday. This Sunday, you are asked to bring forth your pledges and lay them before the altar of God. As a token of our stewardship, with your pledge card, I urge you to give, and give generously.
Now is the time to step out in faith toward the future God is calling us into. God is doing a mighty thing here at First Pres — the signs are all around us. If you've never given before, now is the time. If you've given in years past, now is the time to give more. I'm putting my money where my mouth is:  my wife Amanda and I will be doubling our pledge this year.
FPCE member Dwayne Dobschuetz did the math, concluding that, if everyone who gave last year gave $400 more than they gave last year, we would have the financial capability to turn our aspirations – to turn the dreams which God has called us toward – into a reality. That works out to something like two Starbucks lattes a week. We can do this. And if you can give more than an additional $400 this year, make it happen. Step out in faith.
Now is the time. Join God, and give. There is no scarcity in the kingdom of God. Only abundance. Generous abundance.
I close with this praise of God from scripture:
Now to him who is able to do far more than we could ever ask or think, according to the power at work within us, to him be glory in the church, and in Christ Jesus! Throughout all generations, forever and ever. Amen. (Ephesians 3:20–21)
I'll see you Sunday.
– Rev. Henry Coates