This week's eNewsletter
feature story is written by
Rev. Raymond Hylton, FPCE senior pastor
Dear friends,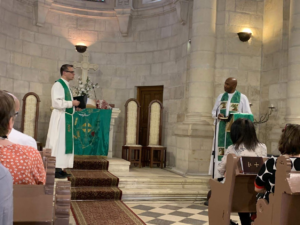 That's me in the picture above with the Rev. Dr. Munther Isaac (pronounced eesak). Munther is the senior pastor of our sister church, the Christmas Lutheran Church of Bethlehem, in Palestine. That Sunday, in Bethlehem, it was standing room only. The church was filled with believers visiting from Crystal Lake, Illinois (you read that right), Canada, Evanston, and local Palestinian followers of Jesus Christ.
Our group from Evanston was on the final leg of our Holy Land study tour. While there, I was asked to reflect with Munther on the topic of reconciliation. In his context — where the strife between Jews and Palestinians is long, complicated, and violent — how and why should Palestinian Christians reconcile with those who sin against them? On the Jewish side, the question is the same: Why and how should Jews reconcile with Palestinians?
That Sunday morning of June 18, 2019, in this landmark church, just a few paces away from the place where Jesus was born, I explained that, without reconciliation, societies would disintegrate.
Followers of Jesus live by a different ethic. The politics of Jesus — his philosophical platform, if you will — is summarized in his Sermon on the Mount. I like to call it the upside-down politics of Jesus. Upside down because his teachings run so completely against the grain of conventional thinking.
In the sermon, Jesus blesses the peacemakers — not the peace talkers — for they are children of God. He blesses the pure in heart, for they shall see God. The meek, not the strong, will inherit the earth. Conventional wisdom says love your neighbors and hate your enemies, seek retribution against those who harm you; the politics of Jesus says to love your enemies and pray for those who persecute you. In this way, by this set of politics, you show that you are children of God.
Dr. Martin Luther King Jr., Mahatma Gandhi, Pfc. Desmond T. Ross, and millions of Christians, in small and large ways, practice enemy love as the way forward in a world fractured by sin, dissension, and violence.
I have great love and respect for Munther. Every day he wakes up, he and all the Christians in Israel and the West Bank must choose which way to live. Every day, this man chooses to follow the way of reconciliation through the Cross.
Today (Thursday) through Saturday, Munther, Jack Sara (President of Bethlehem Bible College), and Yohanna Katanacho (professor of Biblical studies and Academic Dean at Nazareth Evangelical College) are speaking at North Park University at the school's 2019 Symposium Holy Land: Biblical Perspectives and Contemporary Conflicts.
This Saturday, from 6-8 pm, Munther and Jack will join us at First Pres for dinner and then share their testimonies of living for Jesus in their difficult context. If you are coming, please sign up here: https://www.signupgenius.com/go/10C0F4BAFAE2BA2FF2-testimonies. The dinner is free, but the organizers want to make sure to prepare enough food.
And then, on Sunday, Munther will preach in both services and lead a Sunday School class from 10:30 to 11:15 am.
Yes, our own nation, too, is deeply polarized. If someone watches the wrong cable news network, follows the wrong political animal, fails to spout the right party line — or happens to have different melatonin, or has a different religion, or no religion at all — we reject them and settle for the comfort of people who look like us, and think like us.
Jesus clearly reminds us, For if you forgive other people when they sin against you, your heavenly Father will also forgive you. But if you do not forgive others their sins, your Father will not forgive your sins (Matthew 6:14-15).
Let's learn more about the way of Jesus,
Pastor Ray Hylton