Our Perspectives of Place and Time
This week's eNewsletter
feature story is written by
Jim Teague, FPCE communications coordinator
Dear friends,
I know that whatever God does endures forever; nothing can be added to it, nor anything taken from it; God has done this, so that all should stand in awe before him.
– Ecclesiastes 3:14 (NRSV)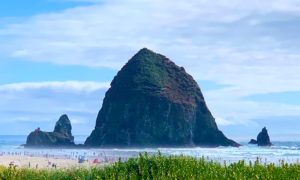 Last weekend, I stayed for a few days a block from the Pacific shore in Oregon. At some point each day, I would walk to the beach and look out over the spectacular view. This particular beach has a dramatic view of a rock structure call Haystack Rock. A massive thing, it has survived centuries of the ocean's pounding, the wind, the rain, and countless storms. It's awesome.
One afternoon, my son, brother-in-law, niece, and I went to a nearby state park where we stood at the edge of a nearby point and saw the same beach and Haystack Rock from a higher perspective. Same rock. Same ocean. But the sense of awe I had this time came from seeing not just this one massive rock up close, but in context of the greater shoreline, other rock structures and a better sense of scale.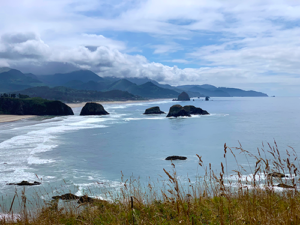 On that same point were beautiful, tall pine trees. Anchored firmly to the ground beneath them, they, too, have endured many years of pounding rain, relentless wind, and dramatic changes in temperature, year after year. But they're still there.
My perspective, however, is limited. Whether standing eye-level at the foot of the awesome rock or up on the point with the pine trees looking down at that rock from afar, I saw it only in that moment of time.
Haystack Rock is being worn down by the sand, surf, and wind. It's unlikely it will always be there. Other rocks around it have crumbled and been eroded away. The pines I saw will eventually succumb to wind, erosion, fire, or disease. They will likely be replaced by new growth, possibly of some new species, which, too, will stand for decades or more, but will also eventually die and return to the earth around it.
The longer I walk with Jesus, explore the Bible, and just live this life, the more I see that my perspective is an extremely narrow one. I have many decades behind me and, God willing, more decades ahead. But my plans and purposes are all encompassed within the sphere of time and place I've been given by God.
His purposes are never thwarted. He does not fear the erosion of time, wind, or rain. In God's big picture view, then, why should we?
This week Rev. Henry Coates finishes our brief series on Ecclesiastes as he preaches a meditation from Chapter 3.
His message is entitled "Time: Our Most Precious Gift."
After his message, we will celebrate a number of ministry activities which have taken place this summer through the outreach of FPCE.
You may have noticed we are celebrating lots of things around FPCE these days. This is very intentional and is happening for a number of reasons:
The 150th Anniversary celebration was a blast, and we've recognized that celebrating is fun!
The Ministry Architects strategic plan process has helped us rediscover just how blessed we truly are as a church body.
In the process of looking back, we've been given an awesome perspective of how amazing God has been, is, and always will be.
Over the coming weeks and months, we will be doing a lot more celebrating of what God has done and is doing, and listening intently to the Holy Spirit — described in Scripture as a comforter (John 14:26; John 15:26), guide (Psalms 119:105; John 16:13; Romans 8:14), and intercessor (Romans 8:26-27) — to discern God's unstoppable purposes for us as individuals, for FPCE, and for his bride, the church universal.
In the meantime, please come to our 10 a.m. service this Sunday, thanking God for the gift of time and for our front row seat to the revelation of His great purposes.
In Christ,
Jim Teague
FPCE Communications Coordinator
(Photos by Jim Teague - All rights reserved)