This week's eNewsletter
feature story is written by
Jim Teague, FPCE communications coordinator
Dear friends,
Part of my weekly "to do list" here at FPCE is to create the cover image for the weekly bulletin. While I am the son of a former art professor who continues to make her living in the creative field, I would be the first to admit that the apple sometimes falls from the tree — rolls down the hill, hops onto a boat and sails across the sea.
In other words, I'm not much of a visual artist.
Even so, I genuinely enjoy graphic arts and have, over the years, pursued training in the field. I really like the task of trying to find the right image to illustrate our weekly message in a simple, understandable way. Occasionally, however, I may misinterpret what the central message Pastor Ray or Pastor Henry is planning on highlighting, and must start back from scratch.
At times, having to start over is a joy. It's like getting one more pitch in baseball after a foul tip. (Forgive me; I do love my sports analogies.) Then again, there are times when I was so pleased with my first attempt that having to scrap it feels like a failure and… well, it bums me out.
This week, FPCE member Melanie Myatt is preaching from Ephesians 6:5-10. Her message is entitled "Working for the Glory of God."
Slaves, obey your earthly masters with fear and trembling, in singleness of heart, as you obey Christ; not only while being watched, and in order to please them, but as slaves of Christ, doing the will of God from the heart. Render service with enthusiasm, as to the Lord and not to men and women, knowing that whatever good we do, we will receive the same again from the Lord, whether we are slaves or free. And, masters, do the same to them. Stop threatening them, for you know that both of you have the same Master in heaven, and with him there is no partiality.
Here is what our cover art looks like this week: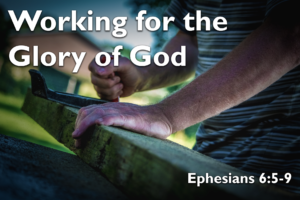 If you're trying to figure out whose hands those are, good luck. Many times, when I am making my cover images, I am using "stock images" or royalty-free photos which I get from a website offering them for free.
This week, searching the site, when I plugged in the word "Work," I was surprised at what came up in the first five or six rows of photos:
Laptops on desks
Laptops and coffee mugs on desks
Laptops with bar graphs on desks next to chrome coffee mugs
Notebooks (the kind you write in) next to coffee mugs
Notebooks (the kind you replace your laptop with) with pie charts and line graphs, next to mobile phones and coffee mugs
The occasional staff meeting filled with smiling twentysomethings
Two pictures of Asian rice farmers
A computer mouse next to a laptop
Pencils in a mug
Pens in a jar
One electrician
It was not what I expected the results for the word "Work" to be.
Please don't misunderstand me. I've spent virtually my entire working life in front of some kind of computer, and coffee has rarely been far away (though I'm now a decaf guy). I just didn't think the rest of society thought that was what we call work.
I've been incredibly fortunate to be able to spend most of my working life doing something I enjoyed. I've had a couple of jobs where the environment wasn't great (FPCE is NOT one of those). And, occasionally, I've found myself in over my head, but managed (by God's grace) to doggie paddle my way back to the shore. When our boys needed someone to be at home with them for a few years, I was blessed to be the one to be able to do it while doing other jobs on the side.
So, in looking for an image that bespoke a more traditional image of visible labor, when I went looking this week for an image to illustrate work, I finally found it by searching under "Construction."
And I guess that makes a lot of sense, given that much of what we do in life involves us being used as a small part of God's bigger building plan.
I hope you will be at FPCE this Sunday to hear Melanie's take on Ephesians 6:5-9. In the meantime, may God bless you and the work he puts your hands to do.
Peace,
Jim Teague
FPCE Communications Coordinator