The Light that Shines in the Darkness
This week's eNewsletter feature story
is written by Rev. Raymond Hylton,
FPCE senior pastor.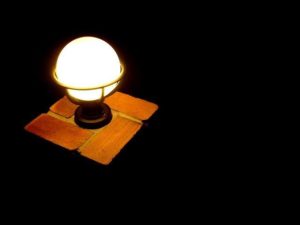 Dear friends,
When I was a little boy, growing up in Jamaica, my parents would send my sister Pam and me out to the country to visit my paternal grandmother, Miss Bertha, during our summer break from school. Back then, I had a love-hate relationship with my grandmother's home.
I loved the fact that her home was surrounded by fruit trees galore, and we could walk for a short 10 minutes and find ourselves on the white sandy shores of Puerto Seco Beach.
But I loathed the nights in Discovery Bay. Miss Bertha didn't have electricity in her home, so the nights were pitch black, and our cousins took wicked delight in sharing scary stories of "Rolling Calf" — a huge, calf-like creature which rolls along the road, blocking the way of night-time travelers and chasing them with evil intention. The Rolling Calf has blazing red eyes that flash fire, and a chain that it drags behind it, making an unnerving clanking noise.
So guess who never ventured out into the dark abyss? You got it: My 10-year-old self never went outside until the sun was shining in the sky the next day. Those days, in my young mind, the darkness of Discovery Bay was fraught with evil, and the light of the morning sun brought goodness and safety.
Darkness and light in the bible
In Scripture, light and dark are metaphors for good and evil. Like oil and water, they don't mix. As with magnetic polar opposites, light and darkness repel each other. Jesus used these two realities to describe the human condition: This is the verdict: Light has come into the world, but people loved darkness instead of light because their deeds were evil (John 3:19).
This Sunday, we will read Paul's encouragement to Christians in Ephesus to live as children of the light. He reminds them, For we were once darkness, but now we are light in the Lord; walk as children of the light (Eph. 5:8-9).
Why live as children of the light? Light always overcomes darkness. On that truth we rely, so why live otherwise?
Christians in Ephesus were called to shine the light of Christ and be different from the pervasive paganism of their community (please read Ephesians 5:3-20 to understand the urgency of Paul's call to live in the light).
The same is true for us 21st-century followers of Christ. We don't want to distance ourselves and hide indoors as I did at Miss Bertha's house (a childish act of withdrawal). But we also don't want to so immerse ourselves in the prevailing worldly culture that we are no longer children of the light (succumbing to adult grey zones of assimilation). We need to find that healthy balance Jesus talked about:  My prayer is not that you take them out of the world but that you protect them from the evil one. 16 They are not of the world, even as I am not of it. 17 Sanctify them by the truth; your word is truth. 18 As you sent me into the world, I have sent them into the world (John 17:15-18).
Our culture needs "children of the light" who — with fully mature humility, courage, and empathy — follow Jesus into and through the world. By the way, check out our mission statement on our home page: I think this points clearly at what we are trying to do.
For the sake of His Kingdom,
Pastor Ray Hylton