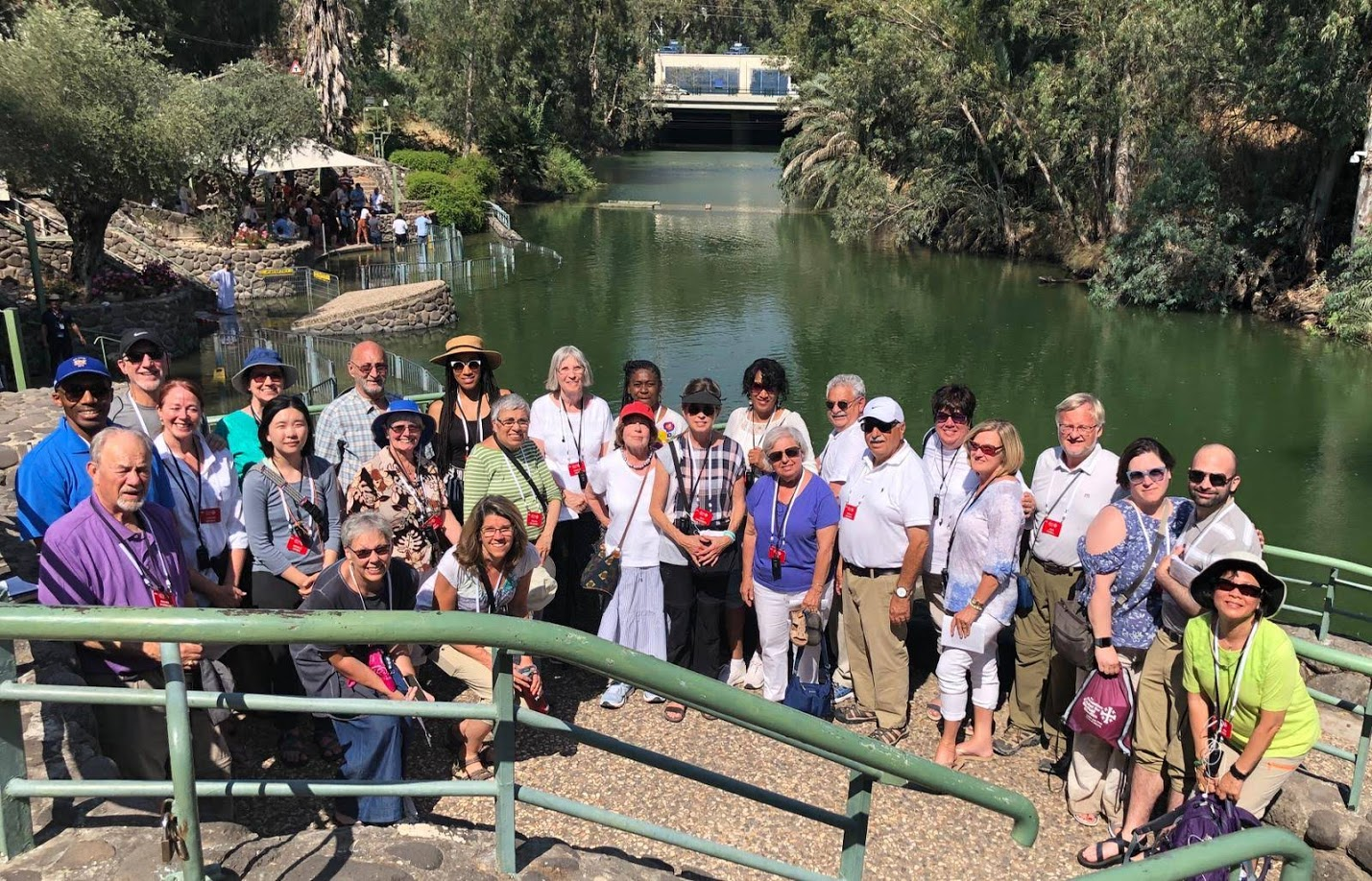 FPCE team at the Jordan River.
This week's eNewsletter feature story
is written by Rev. Raymond Hylton,
FPCE senior pastor.
Dear friends,
We are back! Twenty-seven of us from First Pres traveled to Palestine and Israel for a study tour of the Holy Land. From north to south, and places in between, we walked an average three to four miles every day.
Thanks for your prayers and support.
This was my second time going to the Holy Land. On my first trip, the Spirit of Jesus touched deep into my life, and on this second trip, I was once again touched and encouraged by the Holy Spirit.
This time, it happened when we visited the Primacy of St. Peter, a small church built in 1934, built of black basalt stone and sited a stone's throw from the Sea of Galilee in Tabgha.
Tranquil Tabgha, on the north-western shore of the Sea of Galilee, is best known for Christ's miraculous multiplication of loaves and fish to feed a multitude.
But it is also remembered for Jesus' third appearance to his Disciples after his Resurrection, when he tested and recommissioned Peter to serve His church
John 21 records a couple of events that took placed at this site. Peter and six other Disciples had been fishing all night without catching anything. Just after daybreak, Jesus stood on the beach, though they did not recognize him. Jesus told the Disciples to cast their net on the right side of the boat — and the net filled with 153 fish. When the Disciples dragged the net ashore, they found that Jesus had cooked them breakfast on a charcoal fire.
The rock incorporated in St. Peter's church floor is traditionally believed to be the place where Jesus prepared breakfast. It's known to pilgrims as Mensa Christ (the Table of Christ).
After breakfast, Jesus challenged Peter three times with the question: "Peter, do you love me?" Peter's positive response to this three-fold challenge echoed and canceled out his three-time denial of Jesus the night before his crucifixion.
At that time, Jesus gave Peter a triple commission: "Feed my lambs . . . . Tend my sheep . . . Feed my sheep." And he also indicated that Peter would die by martyrdom.
Beside the church, in a garden setting, is an area designed for group worship. We sat together and Professor Kay helped us understand the power and meaning of this site. Between the church and the lake stands a modern bronze statue of Jesus symbolically recommissioning Peter with his shepherd's crook.
The Spirit of Jesus reminded me at Tabgha that all service in Christ's name is most precious when done out of love for Christ. Not from obligation, or lust for power, fame, or human recognition, but love. "Ray, do you love ME?" Like Peter, I want to say, "Yes, Lord."
In preparation for worship this Sunday, would you please read Ephesians 4:25-5:2? As you read, Notice the role love for God plays in the process of spiritual growth and transformation. I can't wait to see you all on Sunday.
With love for Christ and you,
Ray
(Photos by Ray Hylton)