How Does Our Spirit Grow?
This week's eNewsletter feature story
is written by Rev. Raymond Hylton,
FPCE senior pastor.
Dear friends,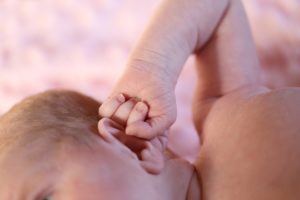 Isn't it fascinating how certain events get imprinted on the brain's hippocampus, clear as a photograph, never to be forgotten?
In my mind's eye, I vividly remember Saturday night, February 8, 1986. It was late. The roads were empty, and Fort Wayne was in the grip of a blizzard. Judith was in the passenger seat, grappling with intense labor pains. Our car, slipping and sliding in near whiteout conditions, was slaloming on a perilous ride to the hospital. Yet this was the one and only time that Judith did not tell me "Slow down!"
We made it to Lutheran General.
The next day, Sunday, February 9, at 5:30 am, our healthy little girl came kicking and screaming into the world.
From infancy to adulthood, she grew — matured, changed, struggled, and blossomed into the woman she is today.
Don't you think something would be wrong if, after 10 or 15 years, she remained an infant? We would be not a little troubled if, at age 25, she was still spoon-fed.
Thankfully, Judene grew physically, emotionally, spiritually, and intellectually.
In a similar way, our heavenly Father expects the same kind of growth from us.
Scripture has much to say about spiritual growth from infancy to maturity.
Like newborn infants, long for the pure, spiritual milk, so that by it you may grow into salvation. (I Peter 2:2)
You are like babies who need milk and cannot eat solid food. For someone who lives on milk is still an infant and doesn't know how to do what is right. Solid food is for those who are mature, who through training have the skill to recognize the difference between right and wrong. (Hebrews 5:13-14)
One more: Like a doting father, St. Paul expresses his heart for God's children — that they will no longer be immature like children. Or that they won't be tossed and blown about by every wind of new teaching. (Ephesians 4:14)
We know a thing or two about what's essential for the healthy development of a child. But do we know what's needed for healthy spiritual development? How do Christians grow into spiritual maturity?
Would you take a moment and share what you think is needed for spiritual growth and maturity? Your responses will help me frame my sermon topic for this Sunday, The Marks of Spiritual Maturity. You may also read Ephesians 4:14-16 for additional ideas. I'm looking forward to your thoughts.
Thanks for your help.
In Christ,
Pastor Ray.
P.S. This Sunday we gather at the Lord's table for communion with each other and with Jesus, our Messiah. Hope to see you on Sunday!