This week's eNewsletter feature story
is written by Rev. Henry Coates,
FPCE associate pastor.
Dear friends,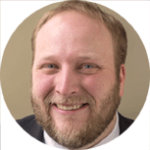 I have the privilege this week to share a message with you all from Ephesians 3:20-21. Ephesians 3:14-21 is quite possibly my favorite passage in all of Scripture, and I am excited to get to preach on the climax of Paul's incredible Ephesians prayer in verses 20-21.
Ephesians is a letter with a beginning, a middle, and an end. The first half is Ephesians 1:1 – 3:13 (middle and end constituting Ephesians 4:1 – 6:24). This first half of Ephesians is incredibly beautiful and convicting:  We hear Paul's theological exposition of God's great mystery, "as a plan for the fullness of time, to gather up all things in him, things in heaven and things on earth" (1:10); of how we are brought from death to life by the love of God for us in Jesus Christ, saved by faith for the purpose of good works (2:1-10); on how the dividing walls that keep us apart have been torn down by the power of God, and we are henceforth a new creation of saved sinners living for the glory of God (2:11-22).
Ephesians 3:14-21 is a transitional section of the letter, where we move from Paul talking about what God has done in Christ for us in Ephesians 1:1-3:13 to the ethical implications of God's saving Grace in Jesus for the rest of the letter. It is this transitional section, 3:14-21 — with a concentration in 20-21 — that fills me with new, exhilarating life nearly every time I read it. There's power in these words — the power of God to give life to the weary, the gift of envisioning how God might work through our lives to the glory of God.
Why is this my favorite passage? Because it is what guides me in the midst of transitions in my own life, and excites me to live towards God's future for me, even when I'm going through crisis.
When I was in high school, I practically lived at the church I worshipped at. My parents were loving, but I felt at home at the First Baptist Church of Hightstown. We were always there, playing games, watching movies, hanging out, talking about life. At the point that a group of us were starting to consider what colleges we might attend, our youth pastor brought us in and challenged us to read through the entire book of Ephesians as a group once every week for six weeks, and each week we would discuss in detail one of the six chapters. I don't remember much in particular of those gatherings, but I remember reading through the book, and I remember the words of 3:14-21 — and it is the heart of these words in 3:20-21 that I will share with you this Sunday.
Come! I want you to hear of God's boundless love for you, of how by the power of the Spirit you are rooted and grounded in the very same love that raised Jesus from the dead. His power is at work within us, able to do "abundantly far more than all we ask or imagine."
What are your dreams? If you could do anything, what would it be? What's holding you back from living into your dreams? As we worship God together this Sunday, let's be open to the Spirit's whispering that guides us toward our Savior who will indeed "accomplish abundantly far more than all we can ask or imagine."
Come! We have so much to share.
– Pastor Henry