This week's eNewsletter feature story
is written by Rev. Raymond Hylton,
FPCE senior pastor.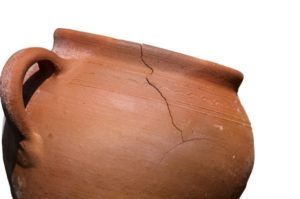 Dear friends,
During a recent devotional time, the following story by Nicky Gumbel, founder of Alpha , encouraged me, and I pray it does the same for you:
A water-bearer in India had two large pots; both hung on the ends of a pole, which he carried across his neck. One of the pots had a crack in it while the other pot was perfect and always delivered a full portion of water. At the end of the long walk from the stream to the house, the cracked pot always arrived half full.
The poor cracked pot was ashamed of its own imperfection and miserable that it was able to accomplish only half of what it had been made to do. After two years of what it perceived to be a bitter failure, it spoke to the water bearer one day by the stream:
"I am ashamed of myself, and I want to apologize to you. I have been able to deliver only half my load because this crack in my side causes water to leak out all the way back to your house. Because of my flaws, you have to do all of this work, and you don't get full value from your efforts."
The bearer said to the pot, "Did you notice that there were flowers only on your side of the path, but not on the other pot's side? That's because I have always known about your flaw, and I planted flower seeds on your side of the path, and every day while we walk back, you've watered them. For two years I have been able to pick these beautiful flowers to decorate the table. Without you being just the way you are, there would not be this beauty to grace the house." (The Bible in One Year, 2019)
Thankfully, God uses cracked pots! (In Japanese culture, in most highly prized Kuntsugi pots, the cracks are mended and highlighted with veins of gold.) No, you do not need to be perfect for God to use and value you. If you want to be useful to God, here are two essential qualities to practice for spiritual strength:
1. Humility
Remember how, in Corinth, the people of the early church were divided along party lines? Some supported the Paul contingent, others, Cephas or Apollos, and some were of the party of Christ. Paul shattered their petty divisiveness with these words:
not many of you were wise by human standards, not many were powerful, not many were of noble birth. But God chose what is foolish in the world to shame the wise; God chose what is weak in the world to shame the strong; God chose what is low and despised in the world, things that are not, to reduce to nothing things that are, so that no one might boast in the presence of God. He is the source of your life in Christ Jesus, who became for us wisdom from God, and righteousness and sanctification and redemption, in order that, as it is written, "Let the one who boasts, boast in the Lord (I Corinthians 1:27).
2. Obedience
God will do so much more with your willingness than we could ever do with our talent. Case in point, St. Paul himself. He had a history of killing Christians, sanctioning the arrest and displacement and execution of Christians. He once said:
since it is by God's mercy that we are engaged in this ministry, we do not lose heart. We have renounced the shameful things that one hides; we refuse to practice cunning or to falsify God's word, but by the open statement of the truth we commend ourselves to the conscience of everyone in the sight of God. But we have this treasure in clay jars, so that it may be made clear that this extraordinary power belongs to God and does not come from us (2 Corinthians 4:1-7).
Aren't you glad that God doesn't call the perfect? — that God calls and uses those who are willing?
Your very imperfect pastor,
Pastor Ray Hylton