This week's eNewsletter feature story
is written by Rev. Raymond Hylton,
FPCE senior pastor.
Dear friends,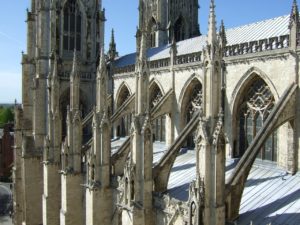 Has it ever occurred to you that what you think about the church and what God thinks about His church are different from one another? "Of course," you say, "the picture in this article is a building, God's church is comprised of people."
Winston Churchill once said that he related to the church rather like a flying buttress: he supported it from the outside. In other words, he supported the architecture and the external beauty of the edifice. Kind of like the outpouring and global sympathy shown toward the fire-gutted Notre Dame Cathedral in Paris.
Churchill is on to something. Far fewer people attend church on Sunday, yet many still claim to be part of the church. They love the idea of the church; it's the people they can't tolerate. Friedrich Nietzsche said a similar thing: "I would believe in Christians and their teachings if they looked a little more like people who have been saved."
Often, we–and people around us–distance ourselves from the church, by using words and phrases like hypocrisy, boredom, irrelevance, dislike for the music, dislike for the preaching, traditional, stuck, mired in conflict, inhospitable, to justify a lack of love for the church.
For these reasons and more, people switch churches the way they switch from one diet fad to the next, hoping the next diet provides all the answers for losing their belly fat.
What does God think about His Church? Predictably, God doesn't think about His church the way we do. God is the ultimate judge who knows the people of the church from the inside out. Still, God never forsakes his people.
After all, who has a perfect spouse, or perfect children, or perfect parents? Generally, we don't switch out our kids, our spouses, or our parents because of their flaws and imperfections. Why, then, do we give up on the church?
I love what Flannery O'Connor said, quoting one of her own in-laws. He started attending church because the service was "so horrible," he knew "there must be something else there to make the people come." As a writer, O'Connor took care to be at her writing desk each morning so that if an idea came, she would be there to receive it. In the same way, O'Connor wrote, she came back to church week in and week out. She believed that one does not always go to church with belief in hand. Instead, one goes with open hands, and God fills them.[1]
St. John of the Cross, the Spanish mystic (1542-1591), wrote, "The virtuous soul that is alone is like the burning coal that is alone. It will grow colder rather than hotter. I believe he is right.
According to the Scripture, the church is the body of Christ, the fullness of him who fills all in all. (Ephesians 1:23)
We are members of the body of Christ. Do you not know that your bodies are members of Christ? (I Corinthians 6:15)
Christ loved the church and gave himself up for her that he might sanctify her, having cleansed her by the washing of water with the word, so that he might present the church to himself in splendor, without spot or wrinkle or any such thing, that she might be holy and without blemish. (Ephesians 5:25b-27)
O that we would see Jesus's church through His eyes, that we would love Jesus's church–warts and all–the way Jesus loves his bride, and that we would serve his church in faithfulness and joyful obedience, the way Jesus sacrificed his life for the church.
Totally committed to loving, serving, and blessing Jesus's church,
Pastor Raymond Hylton.
P.S. In preparation for worship and fellowship at the Lord's Table this Sunday, please read Ephesians 3:7-13
[1] Philip Yancey, Church: Why Bother?, (Grand Rapids, MI, Zondervan, 1998), 21.