Changed forever! Free at last!
This week's eNewsletter feature
was written by Rev. Raymond Hylton,
FPCE Senior Pastor.
ear Friends –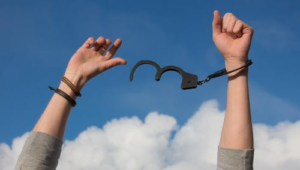 Over my 33 years of pastoral ministry, I have been given a front row seat to scores of people's lives, both here in America and in Jamaica, who came to faith in Jesus. What a joy to witness as they fully, consciously experienced forgiveness of sin through the sacrificial death of Jesus on their behalf.
A few Sundays ago, I told you about my father's conversion from sinner to saint — from darkness to light. My father was spiritually dead, unable to help himself or change his condition — until he met Jesus.
Throughout my ministry, the question I ask over and over again is, "What difference has Jesus made?" and the genuine answers given by the people I have met over these many years all go something like this:
"My life has completely changed. I now look at the world through different eyes… I feel love for everyone and a sense of inner peace that I never imagined could exist."
"I had been living my life in a dark hole, I was carrying a great weight on my shoulders… that burden has gone… and I am filled with great hope, joy, excitement, and love, and all I want to do is to serve Christ in whatever form he chooses."
"I feel like I have found love and conquered death in one day."
"Before Christ, I only lived for myself; since Christ saved me, I now live for a bigger and grander purpose. I have a mission to bring the love of Christ to those who don't know him."
Unless we ourselves know what it means to go from death to life, to be freed from the darkest dungeon, we may mistakenly dismiss these people and label their comments as emotional religious froth. Without experiencing Christ as our personal savior, you see, the difference Jesus makes is so massive, infinite and eternal, it's impossible to fully comprehend.
This Sunday we will hear the apostle Paul's description of life without God as a state of spiritual deadness. He wrote, "Once you were dead because of your disobedience and your many sins. You used to live in sin, just like the rest of the world, obeying the devil — the commander of the powers in the unseen world. He is the spirit at work in the hearts of those who refuse to obey God. All of us used to live that way, following the passionate desires and inclinations of our sinful nature. By our very nature, we were subject to God's anger, just like everyone else." (Ephesians 2:1-3 NLT)
In Ephesians 2, Paul takes us down to the Death Valley of the Soul (vv. 1–3) and then up to "the heavenly realms in Christ Jesus" (vv. 4–7). His method is pure contrast:  from death to life, from Hell to Heaven, from bondage to freedom, from pessimism to optimism. The journey's clarity of contrasts will enhance our appreciation for what we have in Christ, and will influence the way we live.
May I ask that you continue reading and re-reading Ephesians during Lent? Get into a small group and use the church's Lenten Study Guide to encourage your understanding of God's word. Ephesians will change you. You can click here for all things related to Lent 2019.
Blessed to be a forgiven child of God,
Pastor Raymond Hylton